It is likely only for cars with electrical mirror adjustment due to the fact that there's no room for the manual adjustment lever.
The panel is now suitable for bigger tweeters (like the bigger OEM 307 version)
The panel has no "leather-like" structure anymore, so optically it doesn't match the door panel any longer, but it's nicely shaped as a raindrop and the grid has the shape and size of a golf ball.
Partnumbers:             9015V5 (left)
9015V6 (right)
Dome in the centre of the tweeter grid.

The new tweeter panel; larger grid, smooth finish.

Back of panel in parts:

- Tweeter panel

- Tweeter mounting

- Tweeter (in this case the 307 version.

Back of the panel, assembled.

Complete assembly, mounted on the door.
Taken and translated from http://members.lycos.nl/peugeotdata/
Van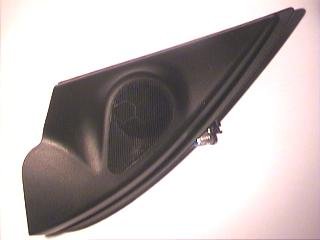 -
-