Next Drive Day
Previous Drive Days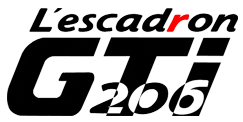 Welcome to the WA section of 206GTi.net, otherwise known as L'escadron GTi (The GTi Squadron).
L'escadron GTi is a registered chapter of the Peugeot Car Club of Western Australia Inc (PCCWA).
This group offers an opportunity to mix with fellow owners, share your GTi stories, make new acquaintances, exchange information about worthwhile accessories and discuss where to find the best GTi roads around Perth!
The group meets approximately every 2-3 months for an organised activity, such as a Sunday Drive, an Observation Trial, BBQ Picnic, Winery Tour or to attend events such as the York Jazz Festival, the Classic Quarter Mile Sprints, Rally Australia, etc. All events will be done in conjunction with the PCCWA. A fellow chapter of the PCCWA is the 206CC enthusiasts club, Club Coupe Cabriolet. If you are a 206CC owner you can contact this group via clubcc@bigpond.com or visit ClubCC
Of course Peugeot 205GTi, 306GTi-6 and other Peugeot GTi owners and friends are also welcome to events.
Because L'escadron GTi is affiliated with the PCCWA, Peugeot GTi enthusiasts must be a financial member of the PCCWA to participate in group activities. You can find further information on the PCCWA website or the application form in PDF, by following the links..
We trust that we will be hearing from you soon and look forward to meeting you personally at our next event.